Ah, love. Whether you're hopelessly in it with your partner, showing it and sharing it with your friends or, you know, just waiting around for something to happen, we've got books for you! To be clear, we always have books for you, but Valentine's Day is this month and we love (pun totally intended) a theme. Read on for our favorite couple (we'll be here all night, folks) of books to suit your relationship status.
If you're Single and Ready to Mingle
Eligible  – Curtis Sittenfeld
Jane Austen fans rejoice! This contemporary retelling of meet cute-classic, Pride and Prejudice, is set in the 'burbs of Cincinnati, Ohio and features a new twist on your favorite family, even taking aim at today's hot topics (transgender relationships and the state of healthcare just to name a few). Start reading because, hello, it's Pride and Prejudice. Stick around to get a kick out of Ms. Bennet's fondness for trash TV and Sittenfeld's modern take on Elizabeth and Mr. Darcy's epic verbal spats.
The Wedding Date  – Jasmine Guillory
Picture it: A mayor's chief of staff and a pediatric surgeon get stuck in an elevator. One of them is in desperate need of a Plus One to the impending nuptials of their ex (talk about awkward). Sparks fly. Will they? Won't they? This book has all the trappings of your favorite cable network channel's penchant for cheesy romance films. Start reading because sometimes you just need a love story with a zany plot. Stick around to see if Drew and Alexa's chance meeting makes for more than one night on the dance floor.
For the Long-Distance Lovers
The Guernsey Literary and Potato Peel Pie Society – Mary Ann Shaffer/Annie Barrows
Love, war and literature all have their place in this epistolary novel. While on tour promoting her latest book, writer Juliet Ashton receives an intriguing letter from a member of The Guernsey Literary Potato Peel Pie Society and aims to learn more about how the society came to be. Her inquiries introduce a wealth of charming characters that she comes to love and one she may even fall in love with. Start reading if you're into historical love stories that involve letter writing (we know we're not alone here). Stick around for a heartfelt backstory that speaks to the true meaning of family and pays tribute to the lives lost to the horrific conditions of World War II.
The Geography of You and Me – Jennifer E. Smith
In case you were curious, we love the stuck-in-the-elevator story line here at HPB. Such is the case for Lucy and Owen. They've lived in the same Manhattan apartment building for ages, but it takes a citywide blackout to get things going. Both characters are dealing with different aspects of intense loneliness when they meet, which causes them to be vulnerable in ways that most wouldn't dare upon a first interaction. Their lives swiftly change directions as Lucy moves abroad and Owen travels west with his father. Can they keep their connection alive with a sea's worth of distance standing between them? Start reading if you're a YA reader. Stick around even if you're not, because we've all been there.
#SquadLove
Attachments – Rainbow Rowell
You know how you sometimes send your co-worker turned friend a message about the on-goings of your personal life via corporate email? And the IT guy finds out, but instead of sending you a passive aggressive email telling you to cut it out, he just eavesdrops and falls in love with you? That's Rainbow Rowell's Attachments in a nutshell and it's the perfect example of how great friendships can help you find a love that's been right under your nose the entire time. Start reading for the oh-so familiar friendly exchange regarding relationship woes between Beth and Jennifer, stick around to root for the IT guy.
Where Rainbows End – Cecilia Ahern
Fair warning, you're gonna need the family pack of Kleenex for this one. This heart-warming novel is comprised of a series of letters, emails and IMs that depict Rosie and Alex's friendship as it evolves amidst long distance, new relationships, subsequent heartbreak and life's other complications. Magical connections are few and far in between, but these two definitely have something special. The question is, could special turn into spectacular if they allow their friendship to go a step further? Start reading because, seriously, how can you not love an epistolary novel? Stick around to see if Rosie and Alex ever make it out of the friend zone.
If It's Complicated
The Kiss Quotient – Helen Hoang
Rumor has it, there are some people out there who actually enjoy math. Stella Lane falls into that category. Her work life involves creating algorithms to predict consumer behavior. Her personal life involves cobwebs. She devises a plan to fix the latter which includes creating a love curriculum of sorts and soliciting the help of an escort to help her complete the lesson plans. Start reading because of the beloved "uh oh! Will the escort catch feelings?!" storyline. Stick around to see the beautifully authentic way author Helen Hoang handles Stella's struggle with Asperger syndrome.
Modern Lovers – Emma Straub
Trying to keep up with the relationship twists and turns in Modern Lovers will be no easy feat, but it's definitely worth the ride. Three former college bandmates, now nearing the age of fifty, find themselves navigating life on the other side of their crazy college days in Brooklyn…with kids. They learn that their estranged fourth bandmember's biography is headed to theaters and mid-life crisis shenanigans abound! Start reading because Emma Straub does a bang-up job of striking the right balance of comedic and sincere writing. Stick around because their kids start a steamy romance of their own.
For Those In Puppy Love
To All The Boys I've Loved Before – Jenny Han
Jenny Han brings back all of the familiar feels with this coming-of-age story about a young girl who's desperately trying to keep her feelings under control by keeping them to herself. She writes letters to all of her crushes that share her longing in explicit detail and stows them away in her room where no one can find them…except a well-meaning, albeit annoying, little sister. The letters make their way to their respective addressees and man oh man. Start reading to get good vibes from the nostalgia that comes from reading about the immature and nonsensical ways teenagers deal with absolutely everything. Stick around to see which boy Laura Jean actually ends up with.
Alex and Eliza – A Love Story
War and love make the list once more. The year? 1777. The setting. You guessed it. The American Revolution. The Schuyler family's grand ball is forthcoming, and their three daughters, Angelica, Peggy and Eliza are required participants, of course. Eliza isn't really interested. In her not-so-humble opinion, the pomp and circumstance pales in comparison to the colonists' cause. Although, her sentiments change upon the arrival of a dashing young colonel named Alex. Yep. That Alex. Start reading if you're a Hamilton fan. Stick around because there's just something about a love story that has a little history.
When It's Just Not the Right Time
The Light We Lost – Jill Santopolo
Lucy and Gabe's meet cute happens on one of the worst days in recent history. September 11, 2001. From there, their romance begins its complex journey. Lucy longs for an unflinching love from Gabe, however, the passion he holds for his craft continuously pulls him away. With continents between them, are they destined to find their way back to one another? Or will their love serve as a benchmark for the survival of future relationships? Start reading if you're trying to figure out why your parents always told you never to date an artist. Stick around because perhaps it is truly better to have love and lost than to have never have loved at all.
How to Stop Time – Matt Haig
Born in 1581 with a genetic condition that causes him to live for literal ages, 440-year-old Tom Hazard has grown rightfully weary of doing so long after the death of his beloved wife, Rose. He's had tons of occupations over the course of his existence, however, he currently spends his time as a sullen history teacher. When a fellow educator swears she recognizes his face, he begins to reevaluate his pessimistic perspective and entertain the idea of starting love anew…even if it kills him. Start reading if you're into historical flashbacks featuring some of your faves (Shakespeare, Josephine Baker, and F. Scott Fitzgerald make appearances). Stick around to see if Tom risks it all for love the second time around
—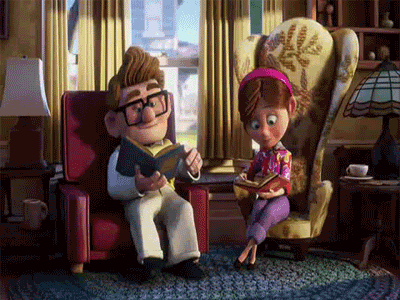 Such is our list of favorite reads for when you're in love, in between, or in the beginning stages of a maybe something. Whatever the case, we hope you'll enjoy pouring through the pages as much as we did.